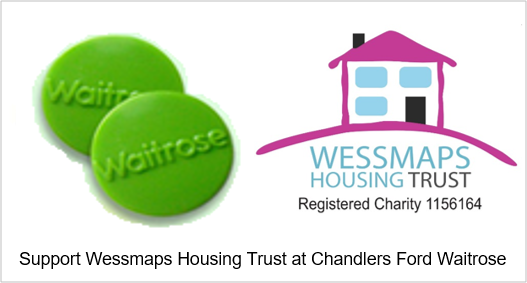 Waitrose Community Matters
We have been chosen to be one of the Charities of Choice in Waitrose Chandlers Ford Store!
We would be very grateful if you could support us by popping your green tokens in Wessmaps collection box so that we can continue to do our great work! Fill free to send us your photos of you donating and we will add these to our publications (with your permission of course!) to: info@wessmaps.org.uk
At the end of your shop at Waitrose, you'll receive a token to place in a box of the good cause you'd most like to support. Please ask if you don't receive yours! By placing a token in the Community Matters box of your local branch at the end of your shop you're helping your community. Since its launch in 2008, the scheme has donated £14 million to local charities chosen by you. The more tokens a cause gets, the bigger the donation they receive. Each month every Waitrose branch donates £1,000 (£500 in Convenience shops) between 3 local good causes that you choose.
https://www.wessmaps.org.uk/wp-content/uploads/waitrose.png
136
136
Louise
https://www.wessmaps.org.uk/wp-content/uploads/wessmaps-logo.jpg
Louise
2018-10-01 14:01:39
2018-10-01 14:02:57
Waitrose Chandlers Ford